I'm not sure if you can say I've jumped on the banana bread making bandwagon that's come about during lockdown because well, I always bake it! I will only eat bananas if they are green to yellow – anything over that, then they are straight into a smoothie or baked into a banana bread. Actually, most Sundays we use our black bananas as a base for pancakes. Get the recipe for the pancakes here.
Not your usual banana bread recipe!
A lovely friend sent this recipe to me, however I have adapted it slightly because I did not have all the ingredients to hand. Plus it is so simple to make, you just add all the dry ingredients to the wet ingredients – no creaming or whisking involved!

Read below for my banana, coffee and chocolate bread recipe…
Ingredients
3 ripe mashed bananas
100g soft brown sugar [you can use caster sugar]
2 eggs
1 shot of espresso, cooled
Pinch of nutmeg
85g melted butter
225g self raising flour
100g dark chocolate
Method
Preheat oven to 170C
Grease a bundt tin [or loaf tin] with butter and cocoa
Mix together the bananas, sugar, coffee, nutmeg, eggs and butter in a bowl
Add the flour and the chopped chocolate to the wet mix
Pour the mixture into the greased tin
Bake for 40 minutes if using the bundt tin – it may need longer in a loaf tin – check by inserting a skewer into the cake. If it comes out clean then it's cooked!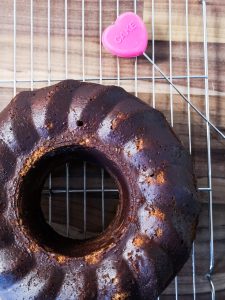 Enjoy with a cuppa!
Let me know if you try this recipe out…tag me on Instagram so I can see and share!
x