I love afternoon tea and recently spent a lovely afternoon at Betty's in Harrogate sampling some of their delights. Have a watch of my visit here.
I brought the kids some treats home from that event and ever since then, Cecily has been asking when she can have an afternoon tea. To be honest, she just wanted to drink out of my china cups and use the teapot!
So given that we're still in the middle of the pandemic and can't really take the kids out and about, the tea rooms are shut and we can't see family and friends, we thought that making and having an afternoon tea [just the four of us] would be a lovely idea!
I got out the fine china, the various cake stands and the tea cup set and got to work.
The kids were buzzing about it. We made everything from scratch [minus the jam and clotted cream] so read on to discover what made it into our perfect afternoon tea and the recipes to go with it!

Afternoon tea: Savoury part
Finger sandwiches
I used bog standard white sliced bread which is a real treat in this household [and one of the best things you will ever taste after having given birth!], filled them, cut the crusts off and cut them into fingers.
We had the sandwiches filled with thinly sliced cucumber, thick ham and tuna. Obviously, those fillings were kid-friendly [or MY kid-friendly]. If I were to make them for the more adventurous, I would fill the sandwiches with smoked salmon and lemon cream cheese; beef, horseradish and watercress; egg and cress [so underrated]; thick ham and mustard.
Sausage rolls
These are soooooo tasty! I was inspired by the sausage roll recipe in Jessie and Lennie Ware's cookbook, "Table Manners" and have adapted to suit what we could get our hands on and also what the kids will love.
Ingredients
Pack of puff pastry
400g sausages
90g cheese
Wholegrain mustard, ketchup or red pesto
Egg
Method
Pre heat the oven to 180
Unroll the pastry and divide into thirds widthways
Take the sausages out of their skins and make three long sausages to fit the length of the panels you have just created
On each panel, smear either the mustard, ketchup or pesto onto it, leaving a 2cm gap along one of the long sides
Sprinkle the cheese over the mustard, ketchup or pesto
Place the sausage on top
Brush the long side with beaten egg
Roll the pastry up and then fork along the edge
Cut the sausage roll into five, so that you are left with 15 mini sausage rolls
Place onto a baking tray, join side down and brush with beaten egg. Add fennel seeds and/or black onion seeds to the top
Bake in the oven for 20-25 minutes

Afternoon tea: Sweet bakes
Scones – cherry and lemon
This is Kristian's domain – he is chief scone [as in "gone"] maker and ropes Cecily in who does the "sand part" bless her.
Ingredients
350g self raising flour
1tsp baking powder
85g butter
3tbsp caster sugar
175ml milk
Lemon zest and juice
50g glace cherries
Egg, beaten, to glaze
Method
Rub butter and flour/baking powder together until the mixture resembles crumbs [or sand]
Stir in the sugar
Heat the milk until warm and then squeeze in lemon juice
Make a well in the dry mix and then add the milk
Combine using a knife [add lemon zest/chopped glace cherries at this point]
Tip the dough out onto a work surface, fold the dough over a few times and pat into a round about 4cm deep
Cut the dough either into triangles or use a cutter
Brush the tops with the beaten egg
Bake for 10 minutes in a pre heated oven to 180 degrees
Lemon curd
Because I'm proper fancy, I made my own lemon curd! It's so easy to make and quite nice to have something different than jam.
Ingredients
1 lemon, zest and juice
50g caster sugar
25g butter
1 egg
Method
Heat the lemon zest and juice, sugar and butter in a bowl above a pan of simmering water. Once the sugar has dissolved, add the beaten egg and whisk/stir. Do not leave the mixture to stand because you will have lemon flavoured scrambled eggs! Once the mixture is the consistency of custard, you can stop and pour into sterilised jars. This will make enough to fill one small jar.

Cupcakes
Ordinarily, I would have made something along the lines of Victoria sponge or carrot cake bites, but Cecily wanted chocolate cupcakes. My favourite chocolate cake recipe is from Frances Quinn's "Quintessentially" which is a well loved baking book of mine! Given that lockdown has garnered a new love for banana bread, you could whip one of those up and serve it. I have a fab recipe here.
To make, you'll need…
Ingredients
50g butter
50g light muscovado sugar
50g golden syrup
50g dark chocolate
50ml milk
1 egg
1 tsp vanilla extract
1tbsp cocoa powder
50g self raising flour
Method
Melt butter, sugar and golden syrup in a pan
Once melted, remove from heat and add chocolate
Leave to cool for 5-10 minutes
Mix milk, vanilla and the egg in a jug
Beat milk mixture into the chocolate mixture
Add cocoa powder and flour and mix until combined
Fill cupcake cases and bake in oven for 10 minutes or until springy to touch
We baked 24 mini cupcakes and I made a chocolate ganache to top them along with lots of sprinkles.
To make the chocolate ganache…
Ingredients
75g dark chocolate
1/2 tsp vanilla extract
1/2 tbsp golden syrup
100ml double cream
Method
Heat all ingredients together in a bowl over a pan of simmering water. Once melted together, leave the bowl to cool. As the mixture cools, it will stiffen up. I used it when it was the consistency of thick custard. You can pop it in the fridge and then make chocolate truffles with it.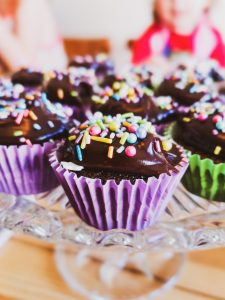 …….
We also had a selection of fruit and the standard cucumber sticks and plum tomatoes – just so I know that my kids are getting some vitamins into them ha!
So there you go! If you decide to have an afternoon tea with the kids after reading this, then please tag me on Instagram so I can see and share!
x