I lust after a panelled wall
I know, a bit strange, but my ultimate dream is to live in an old house full of character. You know the ones; iron fireplaces in bedrooms, high ceilings, gorgeous sash windows – however, if I am to afford one of those where I live, I think I'd have to sell one of my kids…
Next best thing? Fake it
I have seen A LOT of panelling going on over on Instagram and Pinterest. I'm not going to call it a trend because trends come and go and I really don't want the panelling vibe to ever go!
I wanted to incorporate panelling into a 'nothing' wall in our lounge but also really wanted it in our bedroom. I had been influenced by the panelled walls created by Lucy Kemp [@victoria_road_restoration on Instagram] and Mrs Mack [@mrs_macs_home on Instagram], who had both created beautiful effects.
There was no going back. I started really disliking my bedroom so something needed to be done – after all, don't we spend a third of our lives in bed? That room needed to be gorgeous then!
I had been warned to prepare for divorce or feelings of wanting to stab your spouse in the eye with a blunt instrument. I took these on board, marched down to the wood yard [well, we drove], chose the paint and got to it!
Here's how we created our panelled wall…
1. Measure, measure and then measure again!
It was at this point [the start] that I wanted to stab him in the eye because he got his Excel spreadsheet out and mocked up the wall. I thought it was overkill because I'd drawn the design that I wanted on the back of an old envelope but it eventually made sense because he was able to add in exact measurements of the wall.
I had wanted five panels across the bedroom wall but this was soon changed to seven once I saw how large the panels would be. We decided to measure the height of the wall and get the guys down at the wood yard to cut the wood for us. The horizontal pieces could easily be done by us at home, which meant more room for error because we could cut each one to the exact measurement.

2. Glue vertical strips to the wall
We used PinkGrip wood glue to hold the pieces in place and tacked a couple of nails in.

3. Measure and cut your horizontal strips
We were so glad that we did this ourselves because each strip was a slightly different length by a couple of millimetres. Again, glue and tack these pieces in place. This was done for the top line where the wall meets the ceiling and also where I wanted the shelf line to be.

4. Tack the wood strips
Once all the wood is up, ensure that it won't go anywhere by tacking a few more nails in. If your walls are not straight and flat then a few nails will be needed.
A pro tip is to turn the nails on themselves, give the sharp end a tap in order to a) blunt it and b) sink the nail head into the wood and act as a countersink. Any nails that are still level with the wood or not deep enough can be tapped in through the use of nail punch. One word of warning – if you are too heavy handed, you could knock the nail all the way through the wood and split it, which you want to avoid!
5. Put the shelf up
We used a baton across the mid line which would act as a support for the 7cm woodstrip to go on top. Proper screws were needed because we knew that this shelf, albeit a small one, would hold a bit of weight eventually. It needed to stay up – nobody wants a shelf falling on your head in the middle of the night.

6. Sand
He used the electric sander to smooth off any edges that were not level. This created so much dust so a big clean up session was needed. The wood was hoovered and then cleaned down with a damp cloth.
7. Fill
I used a pallet knife and wood filler to fill any nail holes or indentations in the wood.

8. Caulk up
Kris caulked around the wood to ensure that there were no gaps between wall and wood strip. Once everything was dry, we hand sanded to smooth off any abrasive areas.
9. Prime
We bought an acrylic wood primer and brushed two coats on the wood.

10. Paint
We chose Ambleside from Little Greene but, like most people who decorate on a budget, we got it colour matched at Valspar.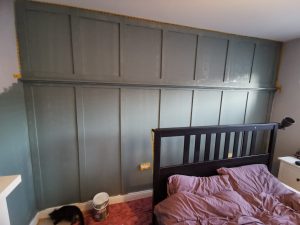 I had reservations about using them because the paint gave off a weird odour [not unlike cat's piss] last time we used it. However, so far so good! We chose an eggshell wood paint for the skirting board at the bottom [which will be taken around the whole room] and a matt finish interior wall paint for the panelled wall. Two coats later and we're done!
So, there we have it! What do you think?
…
Next up is the lounge to receive the panelled look…and this look will be heavily influenced by the lovely Lydia at House of Spolland!
Watch this space!
x
If you enjoyed reading this DIY post, then you'll also love my 'how to' post regarding my pink staircase! Follow me on Instagram for more interior and lifestyle related content.