It'll be a very different Easter this year
Normally, over the Easter weekend, we would visit family and friends, perhaps go for a meal somewhere and definitely visit a National Trust property to do their Cadbury's Easter egg hunt, which is always a winner with our kids.
Unfortunately, this year that is not an option! The UK is still on lockdown but it doesn't mean that we can't have a lovely Easter celebration, just the four of us.
I have done a couple of posts around Easter crafting – you can read them HERE and HERE, but this is what we have done this year…
As deliveries are slower than usual, money is tighter than usual and we are urged not to go to the shops as often, you'll see that a lot of the activities were created using things that we have around the house.
Easter egg box wreath
I think this idea came from Pinterest [let's be honest, most things do], but I thought it was a really cute idea.
You will need:
Egg box
Cardboard
Scissors
Glue
Paint & paintbrush
Crafting bits and bobs like pom pom balls, sequins, etc
Start by cutting out a doughnut shape in the cardboard – this will be the basis of your wreath. Get your little one to paint it – we went for green.
Whilst the kids are painting the wreath shape, you can get busy cutting up the egg box. I used some of the green cardboard to cut leaf shapes out and then got to work on the egg box itself. Cut out shapes that resemble flowers and then get the kids to paint them.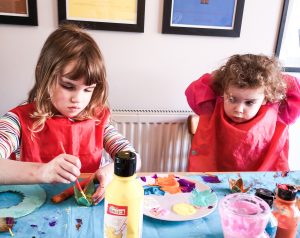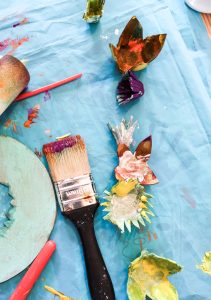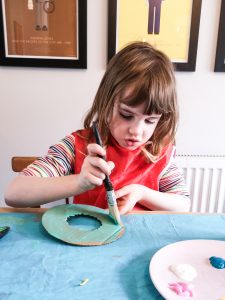 When dry, assemble on the wreath shape. I helped to glue the leaves on and then made sure Cecily put enough glue on each flower so that it would stick. Add some pretty bits to the middle of the flower shapes and boom! Finished! We hung it up and it looks as pretty as a picture!
Easter fridge cake
I shared this recipe to my Instagram grid and people were loving it!
If you want to make it yourself [it's great for the kids to make] then this is what you'll need:
300g chocolate
100g butter
100g golden syrup
100g sultanas
85g cornflakes (you could use puffed rice)
200g digestives
Bag of mini eggs
Melt the butter, syrup and chocolate together. Bash the biscuits up so that there is a mixture of chunky bits and small bits. Add the melted chocolate mixture to the dry ingredients. Mix well.
Pop the mix into a parchment lined baking tin. Decorate with mini eggs and melted white chocolate.
Refrigerate for a few hours, overnight if possible!

Easter tree foraging
We're allowed to go out for some daily exercise, so why not do a bit of foraging next time you're out?
On one of our daily walks, I snapped a few twigs and carried them home, popped them in a jug of water and decorated them with the salt dough creations made a couple of years ago.
I think it looks really lovely and it didn't cost me anything!

Easter flower cards
I have kept all my used toilet roll innards because they are so handy to have around when crafting!
A couple of them were used to make these cute cards.
You will need:
Toilet roll cardboard
Scissors
Card
Paint
Cut each roll in half, dip in paint and then stamp over the card. Make sure that you are creating petal shapes. Once it is dry, add detail in with pen.
…
So there you have it – go get your bake/craft on!
If you're inspired to make or bake anything after reading this, then please let me know! It would be lovely to see what you're all up to!
x