As you [should] all know, I have two stockubes who like to get messy and destroy the house.
Usually it's in the form of books being launched out of the bookcase/tv unit, a felt tip pen that has been overlooked at tidy-up time [what's that?] and drawn on hands/clothes/carpets or a rogue lipstick taken from my handbag [yep] and smeared all over my three year old's face and other body parts.
However, given that it is the run up to Easter I have been letting them get messy in a more organised/controlled way and we've been crafting! Admittedly, Rufus being a one year old is not really THAT interested but he will sit and watch and then demolish what we have made together. Plus, give him a brioche and a pencil and he is as happy as larry.
'What have we got up to?' I hear you ask!
Below are a few activities [if you can call them that] that we have got up to in order to bring a little bit of Easter cheer into our lives despite the Beast from the East threatening to return!
Easter Salt Dough Decorations
I am reusing my Christmas twig from the garden as an Easter tree this year. First time EVER we have had an Easter tree and I'm excited. I had envisaged that it would look like the tree that Charlotte from The Home That Made Me made a few years ago but perhaps not! Ours is more rustic shall we say.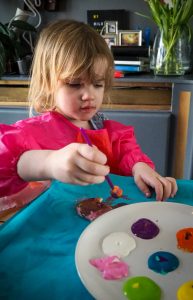 When I attempt crafting with the kids I have to try to stay calm and collected. I generally let them go crazy on things to make their mark and let their own creativity flow [not when hot glue guns are around though, as you will read about below!]
Salt dough is a good activity because it is cheap to make, only requires three ingredients and if they eat a bit they're not going to poison themselves!
Salt dough recipe
1 cup salt
1 cup plain flour
120ml ish water [add gradually for the required playdough type consistency]
I had bought some cute cookie cutters from Hobbycraft that Cecily used to press out shapes which were then put onto greaseproof paper and into a really low oven. Ours was set at 100C and they dried out in about two hours.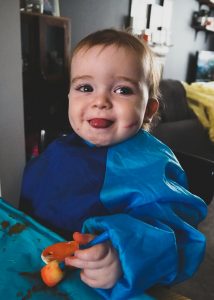 Next up was decorating. We used bog standard poster paints and glitter glue and then mod-podged them to seal. A bit of ribbon through the holes [remember to make a hole before they go in the oven!] and popped onto the twig! Bob is your Great Uncle.
Easter Crispy Cakes
You know the one. Any form of cereal. Melted chocolate. Mix it up. Pop it into cupcake cases. Decorate with chocolate eggs. Yummy!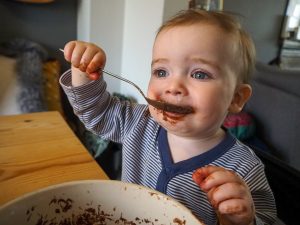 Be prepared for a chocolate disaster with this one. If you suffer from any form of OCD then do not let your kids lick the bowl out. It's messy.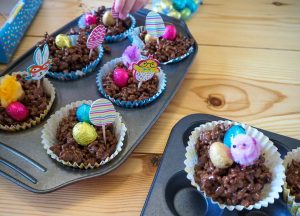 Easter Bonnets
We [the three year old and I] did this together purely because nursery had a bonnet competition. Obviously my crazy competitive side came out and I may have taken over slightly…but in my defence we were using a hot glue gun to stick the large items to the hat!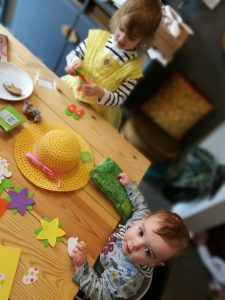 I was quite impressed by our efforts. Cecily loved her hat. However the competition over at nursery must be fierce! Good God! There were Easter bonnets with full on Jellycat rabbits perched on top of them. One parent had recreated a giant creme egg! Some even had edible parts to them. I'm gutted because I do not think that we have a hope in hell of winning after seeing those crazy submissions! Must try harder next year!!!
Hats and decorations were bought from Morrisons. Ranging from £1 to £4.99
Easter Hot Cross Bunnies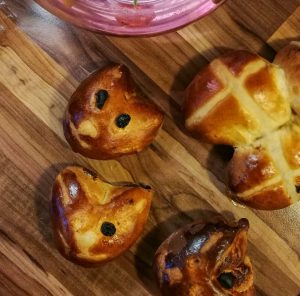 I'm disgusting at Easter. I have a weakness for hot cross buns [minus the mixed peel yuk!] and I would have one for every meal if I could. Don't bother toasting and buttering for me, I'll just eat them straight out of the packet!
The past few years I have baked my own buns and they are really lovely as a treat – I'll admit though, they go stale really quickly which means you have to eat them all in a couple of days. Shame.
I usually use this recipe which works really well [I take out the mixed peel]. This year we decided to shape them into bunnies which I thought were cute before they went into the oven. They were the stuff of nightmares when I took them out!
So with a few days to go you might want to try one of these activities with the kids [or yourself – melted chocolate is always a good idea!] If you do then give me a tag on social media so I can check them out! Have a fab Easter!!!
x