Easter is one of my favourite times of the year because of so many different reasons, but mainly chocolate… get-togethers… egg hunts… chocolate… chocolate… chocolate and given my obvious love of chocolate and baking, here are some really easy Easter baking ideas that you can impress your family with!
Rocky road filled Easter eggs
You must have seen the biggest craze this Easter?! Chocolate Easter egg shells filled with an array of different things; from crispy cake to cheesecake, they look so naughty but very delicious!
I decided to fill an Easter egg with one of my favourite things – rocky road. Technically this isn't a bake because it just involves a bit of melting chocolate but it is so easy to do.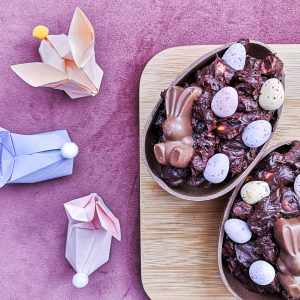 Ingredients
Easter egg [I used a small Cadbury's egg]
110g dark chocolate
50g butter
1 tbsp cocoa powder
1 tbsp runny honey
50g ginger nut biscuits
25g mini marshmallows
25g sultanas
50g mini eggs
50g maltesers
Mini malteser bunny
Method
Melt chocolate, butter and honey in a bowl over a pan of simmering water
Add the cocoa powder to the melted chocolate
Smash the ginger nut biscuits into large rubble pieces
Add the rest of the ingredients [leaving back some mini eggs] into the melted chocolate mixture and stir
Divide the mixture into the two halves of the hollow Easter egg
Decorate with the remaining mini eggs and a Malteser bunny
Caramel egg brownie
If you love caramel and you love brownies, then this easy Easter baking idea is right up your street. I regularly make the base of this brownie with my kids [I made an amazing Rolo and Oreo brownie a while back] and just add different toppings to it.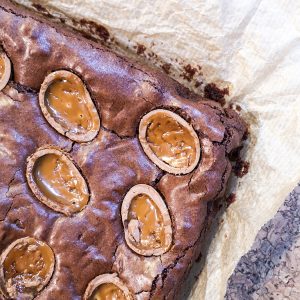 Ingredients
175g butter
200g dark chocolate
150g caster sugar
150g brown sugar
3 eggs
130g plain flour
Bag of Galaxy caramel eggs
Method
Preheat the oven to 170C
Line a baking tin with parchment paper [I scrunch it up, wet it and then use to mould the tin]
Melt the butter and dark chocolate together in a bowl over a pan of simmering water
Take off heat and add the sugar
Leave to cool slightly and then beat in the eggs, one at a time
Fold in the flour
Pour batter into the lined tin and then add the caramel eggs [which have been halved] to the top of the mixture
Bake for 35 minutes
Cool [preferably overnight or in the fridge for a couple of hours] and then slice
Chocolate crispy nest cupcakes
Can it even be Easter without a chocolate crispy nest?! Go one further – a chocolate crispy nest which sits atop of a moist chocolate cupcake that is smothered in Nutella buttercream??? Oh yes!
This recipe is slightly more advanced than basic but only because there are three elements to it. If you break each element down, it's really easy still.

Crispy nests
Ingredients
100g dark chocolate
1 tbsp golden syrup
25g butter
40g coco pop cereal
Mini eggs
Method
Melt everything together, bar the cereal
Once melted, add the cereal and stir
Press into a nest shape [I used a chocolate mould] and leave to set
Add mini eggs into the nest
Chocolate cupcake
Ingredients [makes 9]
Whenever I make a chocolate cake, I use Frances Quinn's recipe – haven't been able to get my own recipe to taste as yummy as hers.
100g butter
100g brown sugar
100g golden syrup
100g dark chocolate
100ml whole milk
2 eggs
2 tbsp cocoa powder
2 tsp vanilla paste
100g self raising flour
Method
Preheat oven to 170c and line a muffin tin with cases
Melt butter, sugar and golden syrup in a small saucepan until sugar is dissolved
Add the chocolate and then leave to cool
Once cool, add milk, eggs and vanilla extract to chocolate mix
Sift in cocoa powder and flour 
Ensure everything is well combined and then spoon the mixture into the cases
Bake for 20-25 minutes
Nutella buttercream
Ingredients
60g butter
180g icing sugar
1tsp whole milk
1 tbsp Nutella
Method
Beat together the butter and icing sugar until pale and fluffy
Add the whole milk and beat
Add Nutella and continue to beat until incorporated
To assemble…
Scoop buttercream into a piping bag and snip a large hole at the end
Take the cooled cupcake and pipe the buttercream onto the top
Take the set crispy nest and arrange on top of the buttercream
Caramel scotch eggs
This recipe was created by using the leftovers from the recipe above. It is so easy and so effective! There aren't even any specific measurements either so just experiment!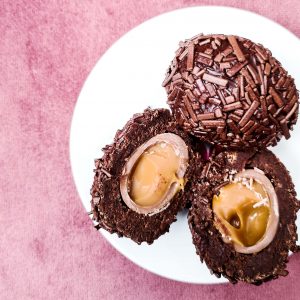 Ingredients
Leftover cupcakes
Leftover buttercream
Melted chocolate
Caramel eggs
Cocoa powder/sprinkles
Method
Break up the cupcakes into a stand mixer
Add the leftover buttercream to the cake crumbs and mix [you are aiming for a moist brownie-like texture]
Take small amounts [golf ball size] and flatten
Place a caramel egg in the centre of the flattened mixture and mould it around the egg
Chill in the fridge
Dip in melted chocolate and then roll in sprinkles [alternatively, you could omit the melted chocolate stage and just roll in cocoa powder]
Chill until ready to cut in half and eat!
I really hope that these easy Easter baking ideas that I have created for you, provide some inspiration.
If you liked this recipe post, then check out my blog post on how to create a perfect afternoon tea with the kids.
Let me know if you bake any of them – either in the comments below or tag me on Instagram so that I can share!
Have a happy Easter!
x