I love houseplants
There is something so calming about having nature in your home and I find green a really calming colour. The problem with wanting these houseplants in my home is that I possessed a black thumb for quite a few years. Luscious, leafy friends would join my home and within weeks, or a few months, they were dead. It was very disheartening because I could keep two children alive, but not a plant!
Anyway, after a lot of trial and error, I am managing to keep houseplants alive! Don't ask me how – I think it is because 1. I'm not forgetting to water them, and 2. I think I have chosen some very easy care houseplants!
So without much further ado, here are my top five easy care houseplants to add to your home
Philodendron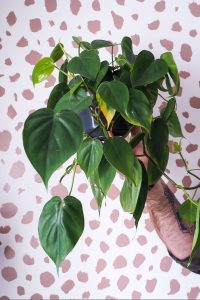 This is one of my most recent additions and it's thriving!
It sits in my hallway on a high plant shelf and gets morning light and also late afternoon sun [when there is any!] The plant originates in tropical regions so light shade is its friend.
Chinese money plant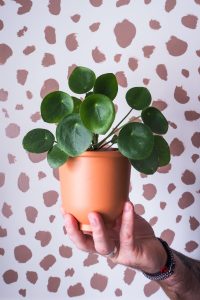 This is a really low maintenance plant. I water it once a week and it currently sits on my bathroom cabinet. It's doing really well!
They like bright, indirect light and should be rotated a couple of times per week [which I forget to do!]
Monstera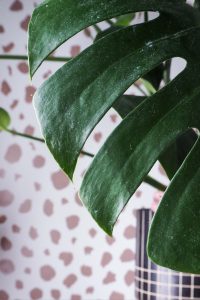 I know this as the Swiss Cheese plant and I love it! She currently lives in my bathroom but is taking over…I call her a 'she' because she has babies that need to be divided and re-potted individually.
Peace Lily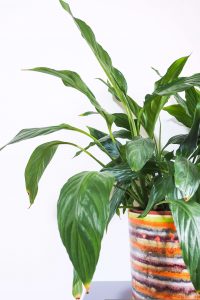 This is the first houseplant that I have kept alive. When all the others were dying around her, my little peace lily stayed strong! My oldest one is now six years old and I have a grand total of three dotted around the house.
One lives next to Kristian's side of the bed; the other lives in the hallway and the last lives in Leticia the Lady Garden [not as suggestive as she sounds, she's just a female mannequin!] I sound completely mad, don't I!
I allow the peace lilies to dry slightly before re-watering and never allow the roots to stand in water. The only issue that I have is that the have not flowered for a while, which possibly means that they need more light.
Begonia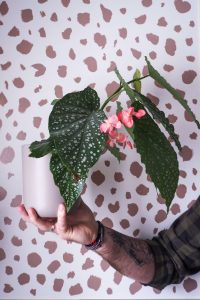 Another recent addition and a surprising one at that because it started flowering! The flowers are beautiful too, very delicate, heart shaped, pink flowers with yellow stamens. This also lives in my bathroom so it gets some humidity and also bright, indirect light.
Top tips for houseplant care
Read up on the plant that you have in your home, some can be fussy buggers requiring partial shade, being in a room no warmer than 19.5 degrees celsius, and feeding with the tears of a unicorn twice a week. Others are happy being regularly watered.
Do not follow trends. I did and was disappointed because it ended in death and money down the drain. Get what you like, not what Instagram dictates…Fiddle leaf fig anyone?!
Feed during the growing season. I use Babybio for houseplants and so far, so good.
I water regularly. During the Summer it is once a week – "Feeding Friday" however I reduce this during the Winter when they do not require quite so much moisture.
Clean the leaves – yes, it's a thing. Dusty leaves stop the plant photosynthesising, which means that the plant doesn't grow. I remove dust with a damp cloth.
Do not be afraid to report when needed [I have to remind myself of this!] You may need specific houseplant compost but most garden centres sell this. I need to divide and re-pot my monstera, which will be fun…
Hope that helps. If you've got any tips that I've missed then let me know.
Also, if you have any easy care houseplant recommendations then I am all ears!
x