The best cookie has to be a Millie's cookie. Fact.
If they're warm then they're even better – gooey in the middle, slightly crisp on the outside. Just heavenly!
Imagine my delight when I came across a blog post from The Anna Edit which proclaimed to have found the best cookie recipe ever?
I wanted to give it a go but didn't have all the ingredients that she cited. I am not worried about substituting some ingredients for others or leaving things out because I am quite a confident baker [I'm blowing my own trumpet there!] so I cobbled together some bits and had a go.
What I did stick to was Anna's tips that she wrote in the post – especially the tip about creaming the butter and sugar together for longer than you think necessary [amazing how the brown mixture soon turned really pale] and also baking the cookie dough on a tin foil lined tray rather than baking parchment. I was sceptical but it worked and it leaves the underside of the cookie far less soggy than if you used traditional parchment.
She did have another tip to freeze the mixture for at least 30 minutes before baking. I couldn't wait with some of the mixture so baked that first. I have since been popping a frozen ball [!] into the oven every now and again and have to say that I'm not convinced. The cookies which had not been frozen spread more and everyone loves something that looks bigger! Just don't cook them for as long so they still stay gooey. Bob's your uncle!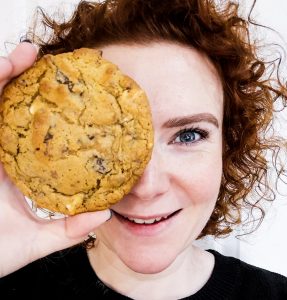 Anyway, without much further ado, here is my version of the best cookie recipe ever:
Ingredients:
225g butter
150g dark muscovado sugar
150g caster sugar
2 eggs
360g self raising four
1tsp cornflour
1tsp bicarbonate of soda [I have made it with 1/2 tsp which works just as well]
1tsp salt
350g chocolate [I used a mixture of dark, milk and white]
Method:
Cream the butter and sugars together in a large free standing mixer until the mixture is pale and fluffy
Add the eggs one at a time and make sure that you beat in each one fully before adding the next one
Add the flour and other dry ingredients to the mixture and beat until just combined
Add the chopped chocolate
Spoon tablespoons of the mixture onto a foil lined tray and pop into the oven for 8 minutes at 160c. If you cook them from frozen then bake for about 12 minutes
Take out of the oven and cool on the tray for about five minutes before transferring to a cooling rack
Eat whilst still gooey and warm!

Variations:
These cookies would lend themselves to all manner of different variations, however I have made white chocolate and chopped hazelnut ones [add 75g chopped hazelnuts to the mixture] and dark chocolate and cherry [add 75g of chopped glace cherries to the mixture, however I think that dried sour cherries would work so much better!
Let me know if you have a go at trying out my version of the best ever cookie recipe! Even better, if you've got a different variation then tell me!
Go forth and BAKE!
x