A dream is a wish your heart makes
When you're fast asleep…
If only Cinderella, if only. There's not been much dreaming around here recently if I am honest. Sleep is definitely a luxury when you live with two children who currently think that sleep is for losers.
It's a regular occurrence where we find a three year old sandwiched between us in our king sized bed. Being kicked in the back and having your hair twiddled at 3am doesn't help with falling back to sleep!
When I do not get enough sleep I turn into the world's worst person. I have no patience, no sense of humour, I cannot string sentences together and I'm incredibly snappy and anxious. Not a great combination!
So imagine how intrigued I was when I met Jo from Woolroom at the No House Rules interior event at the beginning of February.
Jo was explaining to a room filled with mostly (sceptical) women the wonders of wool and how it has been scientifically proven to give you a better night's sleep. Obviously my ears pricked up and I tracked him down following his presentation to ask more questions. I was quite gobsmacked with the facts but also really interested in trying out this product for myself.
Why wool?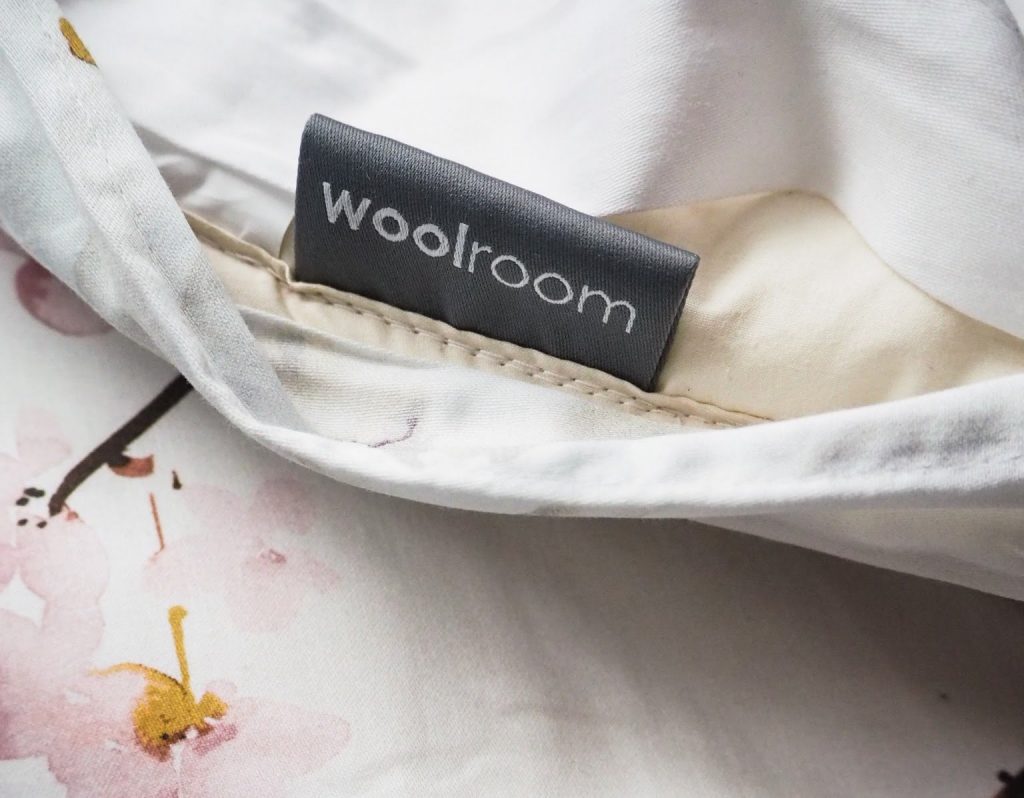 Have you ever woken up during the night dripping in sweat? It's not nice to hear but this happens a lot, especially to women. Hormones possibly play a big factor in this but sleeping under man made fibres does not help because they are not breathable.
Wool is a natural insulator and helps to regulate your body temperature, therefore keeping you cool when it's warm or warm in the colder months. It helps to stop sweating by absorbing the moisture away from the body and releasing it in to the air. This release of moisture also means that wool resists mold, mildew and it is a 'clean' and hypoallergenic material resisting static and dust.
I was disgusted when Jo told the room that within six weeks of using a normal synthetic filled pillow, it has been colonised by dust mites. Gross! To someone who has suffered with asthma, this wasn't positive information! Woolroom's range of wool bedding however had been scientifically tested to show that dust mites could not survive in it and had then been awarded the Allergy UK Seal of Approval.
What am I trialling out?
After conversing with Chris Tattersall (MD of Woolroom) it was decided that we would need a warm duvet set. We had been sleeping under a bog standard supermarket duvet, so mainly polyester filled. It was bought because it was cheap and we knew that there would probably be newborn baby vomit projectiled onto it at some point. Whilst cheap, it also meant the use of cheaper materials played havoc with our night sweats (me especially. One word: breastfeeding) Invariably at some point in the night, the duvet would be flung off onto the other person but then reached for later on because we were too cold.
The problem with waking in the night due to temperature regulation issues or unsettled kids is that I cannot get back to sleep so easily. Along with the Jekyll and Hyde issues as explained above, if I do not rest properly my hip/pelvis issue derived from pregnancy plays up the next day so resting is really crucial to me.
The Duvet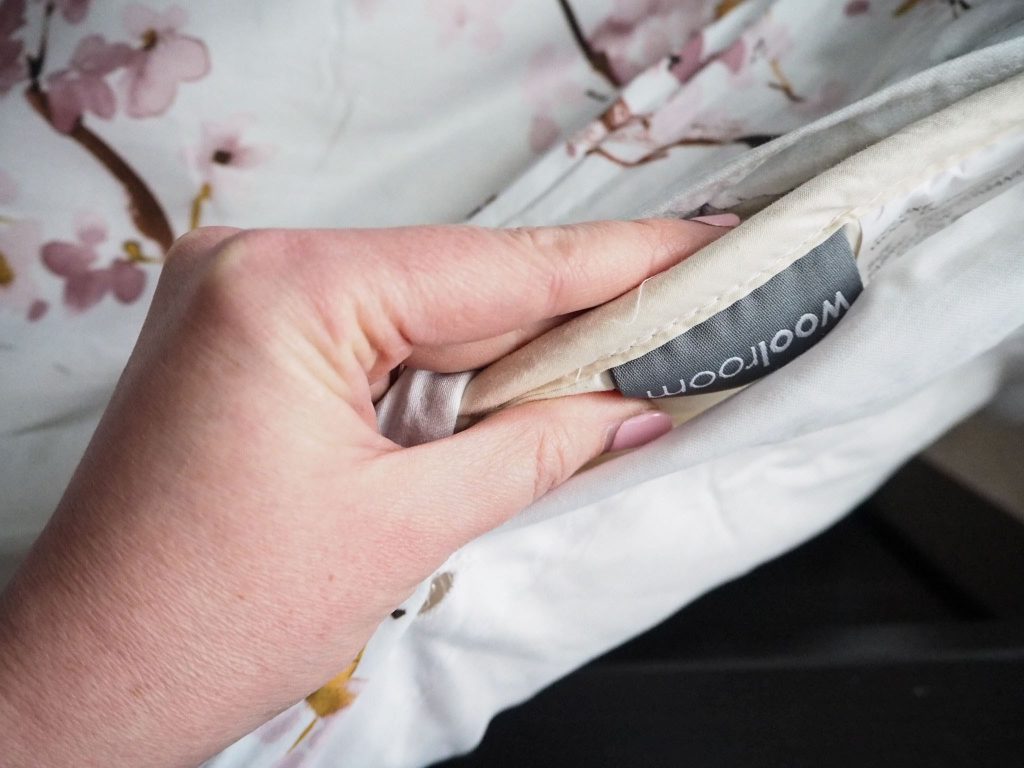 Research has proved that Woolroom duvets allow the sleeper to enjoy 25% more stage 4 regenerative sleep. This is good news because it is this stage that helps you feel refreshed.
All their products arrived in individual zipped cotton calico bags with the brand name emblazoned on the front. It just spoke quality to me. Kris and I were both surprised when we took the duvet out of its bag. As is usual in 'normal' duvets, we were expecting quite a thick springy duvet but this was not the case. Woolroom's duvet is very slim lined as illustrated in the picture yet it is so cosy when you get snuggled under it.
The Mattress Protector
Woolroom's mattress protector is amazing. I think this is my favourite product, or possibly the one that has changed the feel of the mattress but also made bed comfier? We sleep on an Eve mattress, which is great but I think also adds to the temperature issues. Putting this over the top instantly made a difference to both of our sleep patterns.
These are fantastic. I like a flat pillow whereas Kris likes a plump one. They come filled with wool and you can take out as much or as little as you want to adjust the pillow to how you like it! Woolroom also has options to purchase extra wool filling to add to the pillow or refresh it in future. The pillows also have concealed zips so there's no annoying sharp bits poking you in the head.

Verdict so far
We have slept with Woolroom's products for about ten nights. It's so far so brilliant! Although we are still having issues with Cecily coming into bed with us (Woolroom also sent us some cotbed bedding for her) she is not coming into bed dripping in sweat. This was happening because she was sleeping on a plastic sheet for all intents and purposes. Cotbed mattresses tend to have an inbuilt plastic cover to avoid ruining the mattress if accidents occur – but the mattress protector is definitely doing its job there! Plus if she does have an accident, all Woolroom's bedding is machine washable so there is no hassle with taking it to the dry cleaners!
I was also gifted some bedding sets from Christy which are just beautiful. Their products are 100% cotton based. Woolroom advise that pure cotton should be used with their products in order to gain the full benefit of the wool. This made sense to use this with the wool bedding to allow air to circulate rather than put a synthetic fibre on top. I was gifted the coral Haruki king sized bedding set and the Willow Pom Pom set.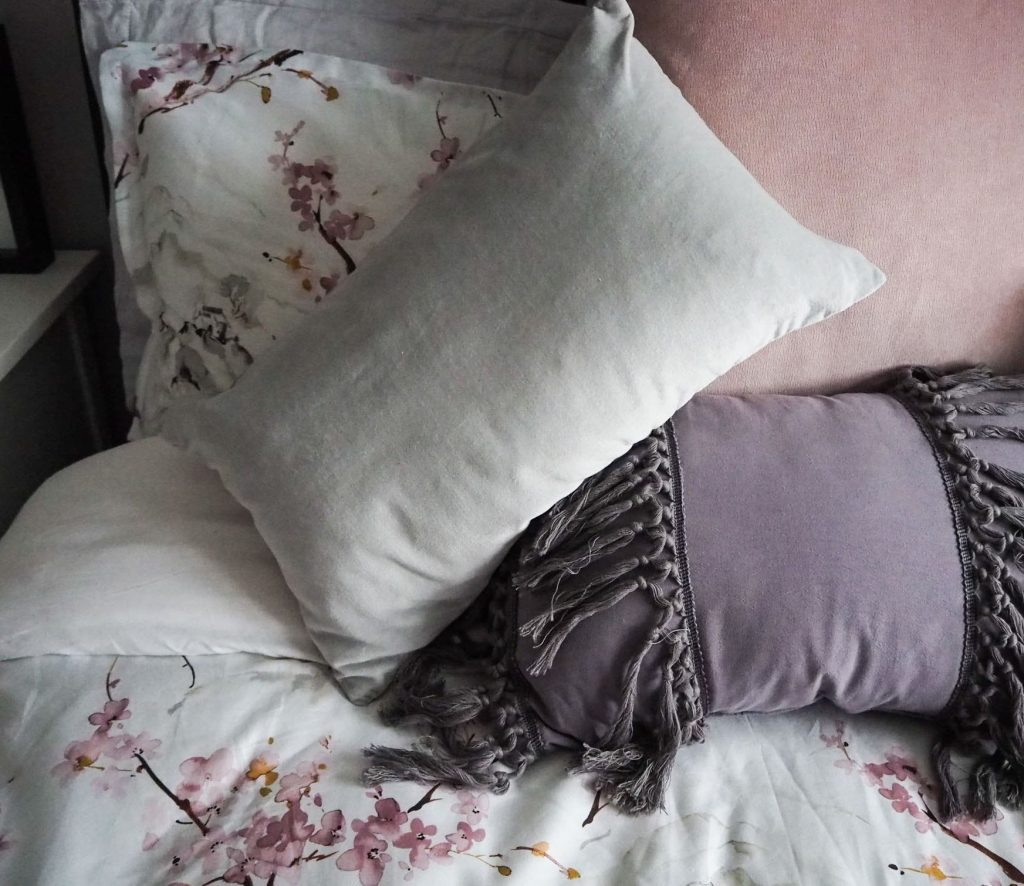 Woolroom has a 30 night sleep guarantee for customers who buy their complete bedding system sets (duvet, mattress protector and pillows). I will report back at the end of this period! Kris is still wearing his Fitbit in bed and the results do show a marked difference in his sleep patterns since we put the wool bedding on. These results will definitely be used in the follow up!
x
This post is in collaboration with Woolroom. I would like to thank them for their time and their gift of the bedding set. Opinions and photographs are my own.