We're well into the 'ber' months which means a change of season and all of the lovely things that Autumn brings! Amongst chilly mornings, Autumn sunshine and the leaves turning brown, it also means blackberries!
Admittedly, I started foraging for blackberries at the end of August but they will be in abundance now. I always make sure that I have a sandwich bag with me on a walk, so that if I come across some juicy berries, I can pick them [although I have been known to pick them and hold them in my hands or handbag – which gets messy!]
I wanted to shine the spotlight on this berry – one of my favourites – and create some lovely bakes with them for you to try yourself.
Blackberry, Lime & Bay Jam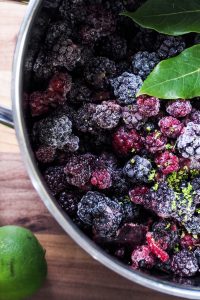 This one is a good recipe if you don't like a really sweet jam. I want to call it a grown up jam purely because you can taste the flavours but my kids eat it so…
Ingredients
750g blackberries
Juice and zest of two limes
2 bay leaves
500g jam sugar
Method
Add the berries, lime and bay to a pan. Heat and mash the berries slightly
Once warm, add the sugar and stir until dissolved
Simmer for 15 minutes
Spoon some jam onto a plate, let it cool slightly and push your finger through it – this is known as the wrinkle test – if the surface of the jam wrinkles then it is done!
Ladle the jam into sterilised jars, pop on the lids whilst it is still hot and leave to cool
Check out my Instagram reel that shows the method.
Jam Tarts
Ok, this one is so easy [almost laughable that I've put it in here] but we regularly make jam tarts because the kids absolutely love doing them. It's the one thing that I can leave them to it – although I step in when the oven part is involved!
Jam and shortcrust pastry is all you need. Definitely make them with the jam as above. I also like them with crumble topping!
Apple & Blackberry Crumble Tarts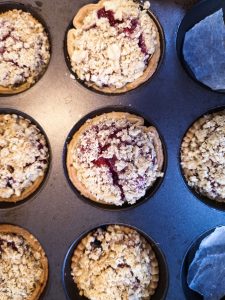 This recipe should make about 10 tarts and it will leave you with apple mixture to freeze and have a later date.
Ingredients
Ready rolled shortcrust pastry
3 cooking apples
1 lime
200g blackberries or autumn berry mix
100g plain flour
75g butter
60g demerara sugar
Method
Preheat the oven to 180c
Make the stewed apple mixture first by adding the peeled and chunked apples, fruit mixture and juice and zest of a lime to a pan
Simmer for 15 minutes or until the apple has broken down
Meanwhile, make the crumble by rubbing together the plain four and the butter until you have a breadcrumb consistency
Stir the sugar through it
Cut out the pastry and line the tart tin
Add the apple mixture and then sprinkle the crumble mixture on top
Bake in the oven for 15 minutes if making large tarts [8 minutes if making mini ones]

Blackberry Soufflé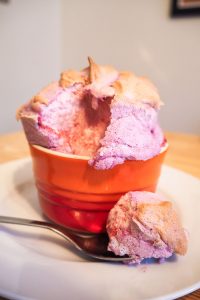 I honestly do not think that a soufflé is that difficult to make. There are lots of horror stories around where they collapse as soon as you take them out of the oven, but I have yet to experience that and I don't think it's luck! This recipe makes two soufflés.
Ingredients
Butter for greasing
3tbsp caster sugar
150g blackberries
1/2tbsp cornflour
2 egg whites
Method
Preheat oven to 180c and grease two large ramekins and line with sugar
Put blackberries and 1tbsp sugar into a pan and heat to break up the fruit
Whizz in a blender and then sieve into a mixing bowl, discarding the pulp/pips
Place 1tbsp of the puree into the bottom of each ramekin
Mix 1tbsp water into the cornflour and then add this to the remaining puree
Whisk the egg whites until they reach a soft peak stage and then add in the remaining sugar
Fold the egg white into the remaining puree and then divide between the two ramekins
Bake in the oven for 10 minutes
Serve immediately
Blackberry, pear & fig frangipane tart
This one is special. It requires a bit of time but it is a showstopper!
Ingredients
Ready rolled shortcrust pastry
100g butter
100g caster sugar
2 eggs
1tsp vanilla extract
140g ground almonds (although you can use any ground nuts, I added some ground cashews into the mix)
75g plain flour
2tbsp blackberry jam
Handful of blackberries
2 pears
2 figs
Method
Preheat the oven to 180c
Line a tart tin with the pastry, ensuring that there is some overhang [you can tidy this up after the case has been baked blind]
Prick the base with a fork and use baking beans to bake the tart case blind – this will need 10-15 minutes in the oven
Meanwhile, beat the butter and sugar together until light and fluffy
Add the eggs and vanilla
Fold in the ground almonds and flour
Once the tart case is out of the oven, remove the baking beans, tidy up the overhanging pastry [top tip – use a peeler!] and then spread the jam on the bottom of the tart case
Add the frangipane mixture on top of the jam, smooth it out
Start to decorate with the fruit until the entire top is filled
Bake for 40-50 minutes or until the frangipane is cooked [check by inserting a skewer into it – if it comes out clean then it is baked!]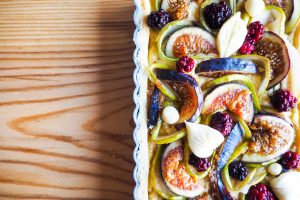 …….
Happy baking! Let me know if you try any of these recipes – either comment below or follow me on Instagram and tag me in your delicious creations!
x
If you enjoyed reading this, then you'll also be interested in my banana, coffee and chocolate bread recipe.