Welcome to the Christmas Gift Guide 2020 – ALL ABOUT SMALL BUSINESSES!
This Christmas gift guide was created because now more than ever, small businesses need our custom. Restrictions in place over the UK during these crucial weeks so close to Christmas are having a dramatic effect on independent business owners.
I'm not saying don't ever use Amazon again, but maybe this year if we're all a bit more organised [I'm chanting this to myself as I'm typing!] we can support small businesses with our custom.
We're not going mad this year [we tend not to anyway], but if you have found this year incredibly tough financially and can't afford to support through being a customer, I am sure that your shout outs and shares of the wonderful independent businesses in this Christmas gift guide will be helpful!
I have not compiled a local list [if you're based in Cheshire, then you can check out my friend's blog post over at the Girl About website] – the businesses and creatives in this list are all those which have been found over Instagram.
The below independent businesses have been highly recommended by my followers over on Instagram or I have previously bought from them [and love them!]
Homeware/Prints/Textiles
Martha and Hepsie – A sister team based in Devon and Sheffield, Martha and Hepsie are found on Etsy and NOTH and design animal and bird stationery, homeware and gifts. I particularly love the penguin prints and this gift set would be perfect for the cook in your life!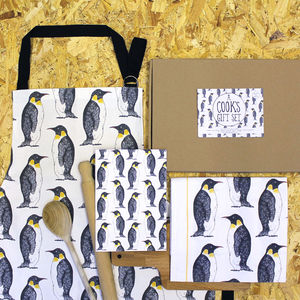 Mizzknits – I love Miriam! I have had the pleasure of meeting her on a few occasions and she is just pure joy. She has a lovely business specialising in hand knits for the home. Think chunky blankets, cushions, wreaths all in a range of beautiful colours. Order through her website or direct message her on her Instagram page if you want something bespoke. She also hosts workshops but check whether these are still going ahead given the situation with Covid.
YAYA Studio – Bright, funky, fun, colourful designs available in prints and cards. I love the festive card bundle and there are prints that would be perfect for a gallery wall or a kids bedroom. There are even some personalised tree hangings that you can buy!
The Steel Rooms – Based in Brigg, The Steel Rooms is usually a bustling cafe, workshop and gift shop selling beautiful homeware. Our house is filled with pieces that we have bought from there. Given lockdown, they are closed however they are selling online. Check their website out for Christmas decorations, homeware, gift ideas for him, her and children.
Eleanor Bowmer – I have been a big fan of Eleanor's for a good few years now. My first purchase was a leopard print tea towel. The prints are gorgeous and I have a few hanging around the house. Her products are fun, colourful, really good quality and she's based in Manchester. I love this Daschund print because I have a little girl who is desperate to own a sausage dog!
Little Florence Art – This company came highly recommended and I can see why. If you want to gift something really personal then this might be the thing you choose! Katie creates art that captures the personality and uniqueness of your family and friends. The process is really clever – you can choose the bespoke service or you can have a go yourself on the website to create the characters, move them around the picture and then send to print!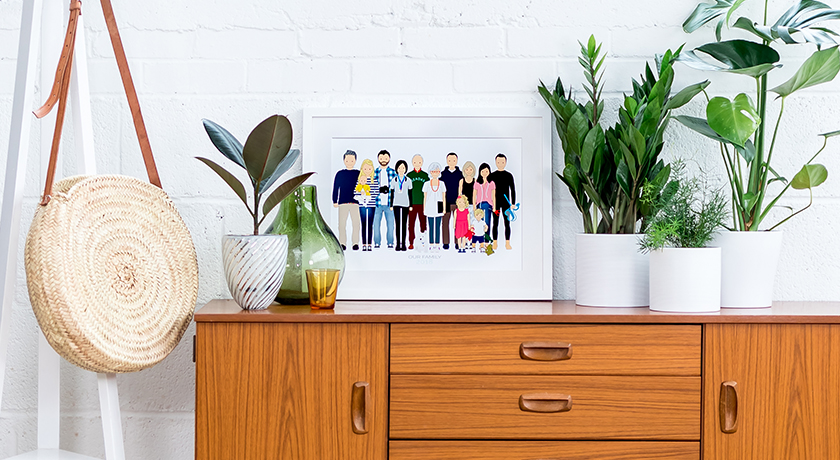 icreate UK – Liz owns a graphic design and print agency based in Cheshire, however she has started creating fuzzy felted animals and crafts. If you have someone in your life who absolutely dotes on their pet, Liz is the person to turn to! She creates felted animals based on photographs that are sent into her and the finished product is so cute! Contact her directly on her Instagram page.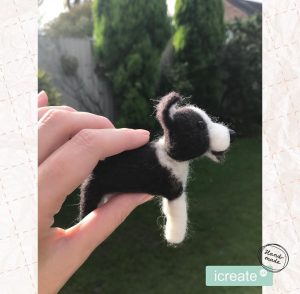 Crochet by Cerys – I have massive respect for people who can crochet and Cerys' creations are beautiful. She is setting up an Etsy page but it may be easier to contact her via Facebook with your order. She has wreaths, rainbows and these amazing knot cushions for sale!
My Kid Made – I love the concept of this business! Get your kid's art made into a beautiful print to keep for years. They also sell materials needed to create the art in the first instance [or you can send off something they have made with your own materials]. It's such a brilliant idea and I am sure that gifting something like this would really hit a special spot!
Marco Looks – Marco is an artist specialising in illustration and print making [he used to draw cartoons for CBeebies!] His art is stunning and if you know the city of York then you will recognise a lot of the landmarks. I particularly love his typography prints in his conscious healing collection – you'll see why!
Fliss and Rose – Jane creates friendly illustrations for cards, pin badges, tree decorations and more so that you can send some love in the post to people who are dear to you. Check out her Sprout Nativity range – it's brilliant!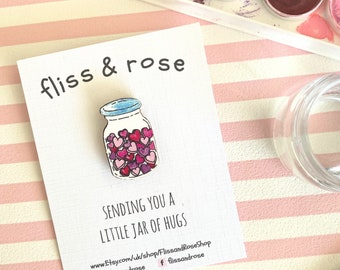 Suzie McDaniels Ceramics – Suzie's Christmas tree decorations are so charming. Check out her website for other ceramic products, including coffee beakers and tumblers!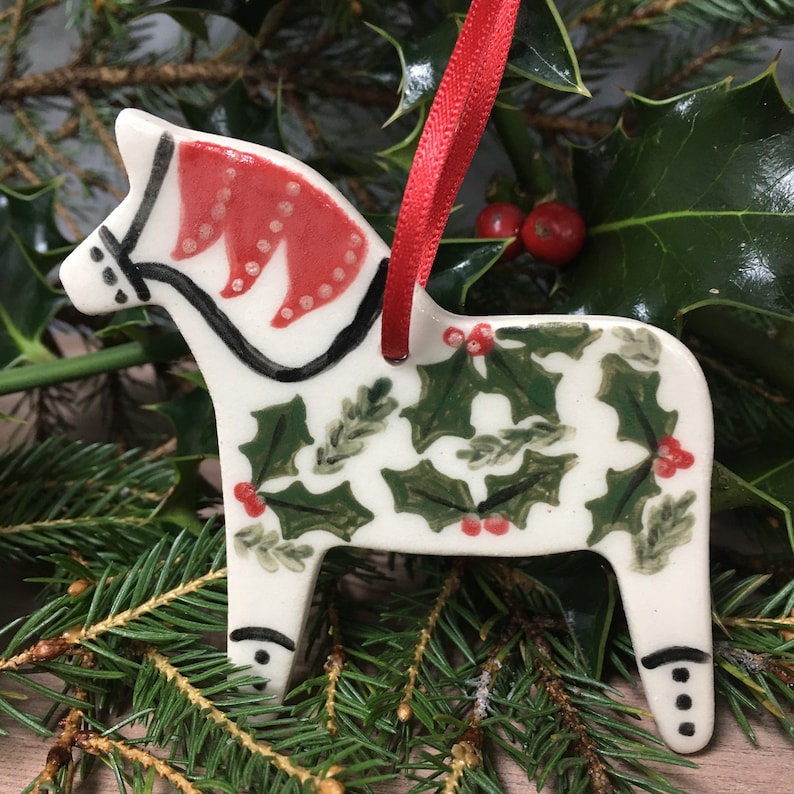 Albert and Moo – I lust over Lianne's Instagram page daily! The quirky products that she sells are just dreamy [check out her bathroom too!] She sells everything from Christmas decorations to stocking fillers, homeware to prints and cards.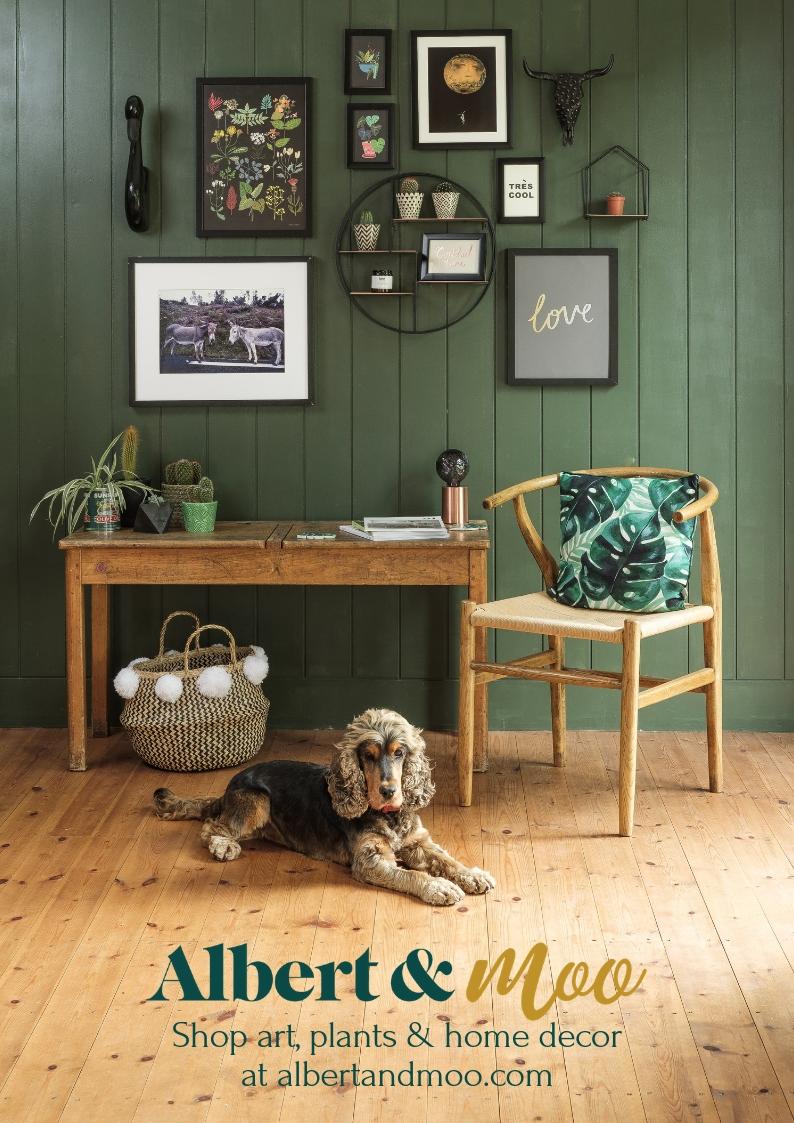 Candles
Old Man and Magpie – I first found this business at Knutsford Market and then Altrincham Market and I make sure I buy one [or two] every year at Christmas! The orange and bergamot is my favourite! The business also has a furniture making side to it so make sure you check that out too!
Orchard Candles – I'm going to put Lesleyanne's business under this section but she is also going to be selling homeware in the near future so keep your eyes peeled on her website. Her candles are gorgeous, soywax, vegan friendly and cruelty free. They are hand poured in small batches, plus there is a 20% discount code on the website for all signature orders made during this lockdown!
Serenityplaces – Emily has recently launched her business specialising in hand poured soy wax candles and they look great! I have my eye on the Earl Grey and Cucumber candle…if it smells anything like a certain upmarket fragrance then I'll be happy! These candles are such a great price point too – perfect for stocking fillers.
Little Yorkshire Candle Company – Alex's candles are 100% natural, made from coconut, soy and beeswax and they are beautiful! My favourite is the Sleep candle, however she also sells diffusers and subscription boxes for the proper candle lover. These products have a higher price point but they're totally worth it!
Jewellery
Jodie Fern Jewellery – One of my insta buds, I love everything that Jodie creates, particularly her recent botanical range. I own a few pieces of Jodie's creations already and have gifted to others from her range too. Sustainability and ethics are at the heart of what Jodie creates. Any offcuts are repurposed or recycled and the jewellery is posted to you in an eco certified box. I know that if someone received one of Jodie's pieces for Christmas, they would be so happy!
by Coya – I absolutely fell in love with Aiza's products! All the jewellery is made from clay and she releases limited collections with the best names…think "Cookie" and "Raspberry Ripple" DELIGHTFUL!
Ami and Lo – This jewellery made by Beth is something else. It's made from cork leather and it's gorgeous! I have my eye on a few pieces for myself but they would make gorgeous gifts for friends or stocking fillers. She even has a mystery box which I find intriguing!
Children's Gifts
Alice and Lulu – Rachel handcrafts these cloth dolls to sell on Etsy and they are just stunning! I think they would make very special presents!

Babystock UK – This business is probably your one stop shop for all things kid and play related! They scour the market and compile the best toys out there so you don't have to. If you are looking to get a gift for a pre school aged child then look no further than here!
The Crayon Bug – These crayons are absolutely stunning! Great stocking fillers for the little people [or big people!] in your life! These unicorn ones are perfect for a sassy little girl that I know 😉
The Play Pantry – Holly set up her company this year, during lockdown when she was working from home and her daughter needed entertaining! If you want plastic free play with an eco conscious heart, then you need to check out her business. She has kits, puppets, puzzles, playdough – anything that is geared towards open ended play and develops imagination is there.
Mud n Bloom – We signed up to this subscription service during the first lockdown and it is fantastic! It's all about getting children to learn about and appreciate nature. Our monthly boxes contained seeds to plant, information about what wildlife could be spotted plus a craft activity. My kids loved it and I think it would make a fantastic gift!
Clothing
BOBthebrand – For him, for her, for the kids, everyone HAS to have a bit of BOB in their wardrobes. We are big fans of Chloe and Sarah, the gorgeous ladies behind the brand, who design and make their products in their Greater Manchester studio. They are the brains behind the bestselling "The Sisterhood" and "The Motherhood" tees and work closely with charities to raise money for their causes through the selling of their tees. Their current charity tee is "Better Together" with a 25% of the profits going to Fareshare who are committed to ending food waste and tackling child poverty.
Top picks are the initial tees and "Say my Name" tees where you can personalise and have whatever you want on it [I got Kris a tee with "The Bearded Tit" written on it haha!], however they have these gorgeous Christmas sacks that can be filled ready for the big day!
Attollo Lingerie – Alice and Fleur set up this business in 2013 after meeting each other at university. They specialise in designing bras for the small back, full bust woman and their lingerie is stunning! I have had the pleasure of being fitted online via video call and it is the future! I would LOVE to be gifted a lingerie set [hint, hint Kristian] but he has always shied away from this type of gift in the past because I am such a strange size and then you have to go through the rigmarole of getting it changed!
Not with Attollo. They have a fitting gift set service and also standard gift cards. Honestly, I have tried their Lily bra on and it made me feel so amazing!
Lanx – If you have a shoe lover in your life and want to splash out on a top quality pair of shoes, then look no further than Lanx. Marco and his team lovingly create these shoes in their factory in Lancashire and they are BEAUTIFUL. I have a husband who has about five pairs of Lanx shoes and he says that they are the comfiest shoes he has ever worn. They have a really comprehensive website and have even helped you with a Christmas gift guide section AND if you're worried about getting sizing right for gifting, there are gift vouchers available.
Reins Clothing – If you want thoughtful, conscious, sustainable, and fun childrenswear then you'll want to buy from Reins Clothing. The designs are influenced by the sea and they are just beautiful!
Food & Drink
Two Brothers – We are a big fan of this company in our household. Based in Warrington Market and Altrincham, they roast the beans and grind them in their Warrington site. Kris is a member of their coffee club subscription and each different order smells amazing! A subscription to their club for the coffee lover in your life would be perfect or you could shop their merchandise – their reusable cups are lovely.
Church Green Deli – One for the Cheshire locals. Award winning chef Aiden Byrne and his wife Sarah are the owners behind The Church Green in Lymm. The business had to pivot during the first lockdown when it had to close overnight. Their takeaway service was a hit when restrictions eased and they have recently opened a deli which is so popular and regularly has queues out the door. They are offering Christmas hampers via click and collect or you could make one up yourself!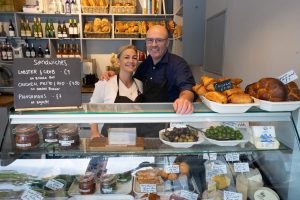 You Say Tomato Cooking – Don't know what to get for the person who already has everything? Why not think outside of the box and get them a meal planning subscription? Gemma is the brains behind YST which she set up whilst living in California and brought back to the UK. I have had the pleasure of trying out her meal planning subscription and it is brilliant. She gives tips and tricks on how to store your food, freezer hacks and accommodates all food intolerances in her recipes. She takes the stress out of meal planning and feeding a family!
Sam Joseph Chocolates – Whenever I go to Altrincham Market, I make sure that I leave with a bag of chocolates from here! Honestly, they will be some of the most gorgeous chocolates you have ever tasted! They are offering truffles and bean to bars online. It's a great gift for a chocolate lover or even a surprise stocking filler!
Meringue Girls – This UK independent company has built a cult following and you can see why! I've followed their journey for a while now, my sister has their cookbook, my son's second birthday cake was a meringue kisses cake inspired by them and my friend ordered their Halloween box for my daughter this year. Have a look at their website – I love their Christmas kits but you can also choose a gifting box filled with meringue kisses.
Bitesize Bakehouse – Brownies, marshmallows, biscuits, chocolates, pure deliciousness can be ordered through the post in time for Christmas. I have not tried anything from here yet, but I have recently ordered a congratulations gift for my friend!!!! Have a browse of their website and you can fill in the Christmas pre order form here.
3 Pugs Gin – I came across this gin brand at our local pub and fell in love. Their gins are really tasty and the bottles are hilarious! I love a good story behind a brand and this one has it! Read about it on their website and then check out their online shop. They have a range of Christmas bundles too including their liqueurs.
Reserve Wines – Another independent company that I have found from frequenting Altrincham Market! The company is trading online so you can get your Christmas fizz and spirits delivered to your door, or send a friend a bottle to say Merry Christmas. They have a fab range of gins [which is what I drink] and they have a Christmas shop to make things easier for you!
Wellness/Self Care/Grooming
Nikki Hill Apothecary – Nikki is a qualified naturopath, clinical nutritionalist and medical herbalist and has used her skills and knowledge to create a range of products that help reduce the effects of common female hormonal complaints. I have a lot of friends who drink her hormone tea and love the taste. It's been a crappy year too and she sells self care kits to help with stress and anxiety [just popping that one into my online basket!]
Squire Hair – If you know a bearded guy who loves to keep well groomed then look no further than Squire. They come highly recommended by my husband, Kris and he is ALWAYS complimented on his beard and hair. Founded in 2016 and based in Sale, Squire's products are eco and vegan friendly. You won't find them in the high street because they want to retain their independent business brand integrity. And guys, the products smell amazing!
Yoke Wellness – so many people have recommended these acupressure mat and pillow bundles. I have one friend who has been using one and it really helps with his tension headaches. If you know of anyone who has aches and pains then this might be a brilliant gift!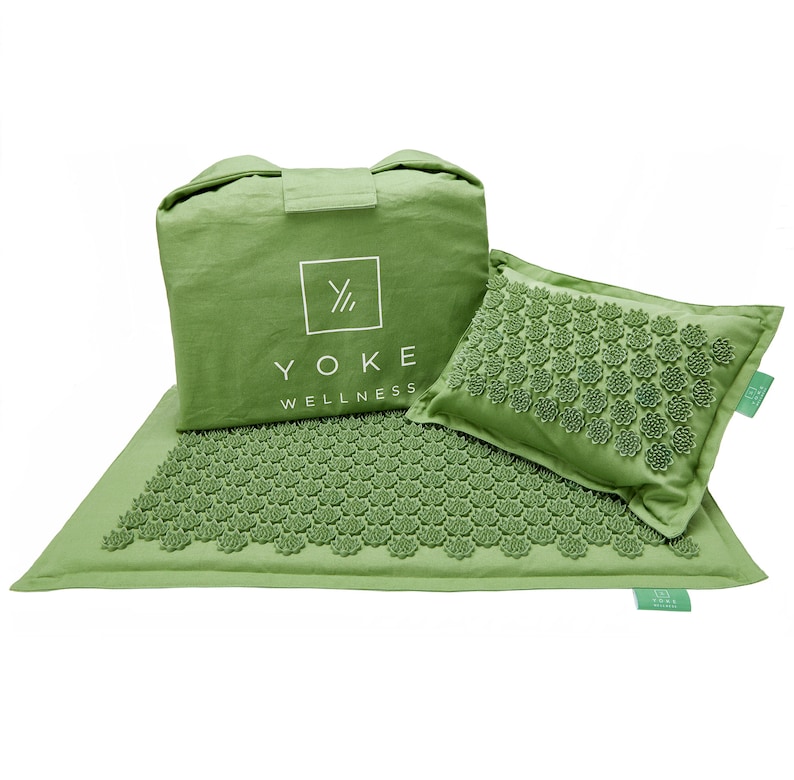 Lymm Fizz – situated just down the road from me, Lymm Fizz is a small business specialising in bath bombs and dusts. My daughter is a big lover of baths and these would be perfect as a stocking filler! Plus all the ingredients used are suitable for sensitive skin.
Kiht Collective – I have a pair of Danielle's leggings and they are so comfortable and hold me in in all the right places. Check out her new collection – gift yourself a pair of leggings or get the fitness fanatic something! Plus you'll feel good about buying something from her because her products are ethical and sustainable.
Crafting
Paper Town Crafts – Over the Spring Lockdown we were kindly gifted some craft kits from Gemma and the kids loved doing them. Gemma created Paper Town Crafts after realising that a lot of her mum friends loved the idea of crafting with their children, but did not enjoy the mess that they created. Think fun, creative, quick, easy and faff free and you have an idea of the kits available! They would be perfect as stocking fillers or little table gifts. Gemma is also running online Christmas workshops so make sure that you check those out too!
The Sewcial Circle – If you want to be inspired by crafting then this is the website to visit! They have all manner of crating kits available for you to gift as main presents or stocking fillers. Katie has a passion for finding sustainable, fun and colourful craft supplies and she wants to ignite people's love for crafting.
The Fox Studios – Heather usually hosts workshops in Warrington but has stopped until the New Year. Instead she is selling gift vouchers and has beautiful aluminium jewellery making kits for you to gift to someone [or buy for yourself and gift the jewellery that you make!]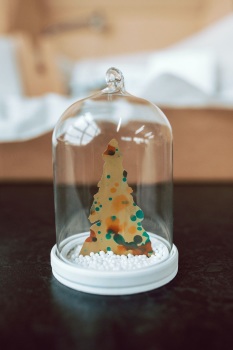 Photography
Jonathan Self Photography – Jonathan is a portrait photographer specialising in capturing his subject's essential beauty. His work captures both brokenness and beauty, resulting in images that take your breath away. You can book through his website HOWEVER Jonathan and his team have set up Cultivating Wonder which is an online course combining photography and mindfulness in children aged 5 to 16.
The next online course is not going to be held until March, so make sure you sign up to their Facebook group to be kept up to date with all news. An Advent challenge for kids is happening over on the Facebook page and the team are selling some really cool products such as journals, affirmation cards and gift cards through their online shop. Be sure to check them out because I love the concept of cultivating joy and awakening a sense of awe in children and their surroundings.
Clicked by Kate – Based in Cheshire, Kate documents real life – the extraordinary ordinary moments that we barely notice at the time, but those which we don't want to forget once they are gone. Kate is our family photographer, specialising in newborn shoots, family shoots both indoor and on location, engagement/wedding shoots and corporate. Message her for details on packages and gift voucher availability.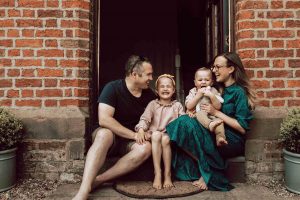 Rebecca Clare Photographer – Based in Lancashire, Rebecca has ignited her passion for photography this year and has built a promising business. Her images are beautiful and she uses the Fylde Coast as a backdrop to many. She has recently promoted her Women Empowered project during October which was really successful. Message her directly through her Facebook account to discuss packages and gift vouchers.
………………….
So there you have it! I hope you have enjoyed reading this Christmas gift guide and being introduced to quite a few small to medium sized independent businesses – all UK based and all ready to take your Christmas orders! If you have any other recommendations then let me know, because I can always add to the list.
Also check out Brown Paper Festival on 14th November for an online curators market.
Feel free to share my Christmas gift guide. I know that it will be appreciated by myself and the businesses mentioned.
Happy online shopping!
x