Autumn baking HAS to include pumpkins doesn't it??
Mashed pumpkins, roasted pumpkins, pumpkin spice, pumpkin pie, pumpkin latte, pumpkin EVERYTHING!
I love the vegetable and all the varieties that it comes in [although technically it's a fruit, who knew!?] and I've loved experimenting with it to create the next bakes.
So grab a cuppa, get comfy, read through the following recipes that we have enjoyed baking and let me know which recipes you are going to follow to use up those pumpkins/squashes.
Pumpkin & banana cupcakes
I had pumpkin and my bananas had gone brown. So I combined both of them to make the ultimate banana bread/cupcake!
Ingredients
60g butter
160g brown sugar
1tsp pumpkin spice mix [this is the one I bought]
1 egg
210g pumpkin puree
1 mashed banana
140g self raising flour
1/2 tsp baking powder
40g cornflour
75g dark chocolate drops
Method
Pre heat the oven to 180c
Line a 12 hole muffin tin
Combine the butter and sugar together and mix
Add the spice mix and egg and continue to mix
Add the mashed banana and pumpkin puree – the mixture will look like it has split at this stage – don't worry! Keep going…
Add the dry ingredients to the wet mixture and fold in. The mixture should start coming together to form a smooth batter.
Fold in the chocolate drops
Scoop into muffin cases and bake for 25 minutes
Cool and then decorate. I decorated with a simple cream cheese frosting found here.

Pumpkin Spiced Cinnamon Rolls
Oh my lord! These are so good! Kris got into baking cinnamon buns over lockdown but the addition of the pumpkin puree and the pumpkin spice just elevates it to another level!
Ingredients
125g roasted pumpkins [I cut mine in half and placed them face down on a baking tray and baked in a 180c oven for 45 minutes, let it cool, scraped the flesh out and blitzed it]
50g brown sugar
1 tsp pumpkin spice mix
1/2 tsp salt
100ml whole milk
30g butter
1 egg
10g dried yeast
335g strong bread flour [but you could use plain flour]
Filling – 100g softened butter and 100g brown sugar mixed with 1 tbsp pumpkin spice mix
Method
Warm the butter and milk in a pan until melted
Add the active yeast to the pan and set aside
Meanwhile, mix the pumpkin, brown sugar, salt and pumpkin spice mix in the mixer
Add the egg 
Change the attachment to a dough hook [if you have one] and add the wet ingredients
Add the flour and knead in the machine for 10-15 minutes
Cover and leave in a warm place for at least an hour and a half [or until doubled in size]
Knock back and knead for a couple of minutes on a lightly floured surface
Roll out to a large rectangle shape [about 30cm by 60cm]
Spread the butter over the surface of the dough
Sprinkle the brown sugar and pumpkin spice mix over the butter
Tightly roll up the dough starting from one of the longer length sides
Cut into 12 even rounds
Arrange the rounds in a lined tin or casserole dish, cover and leave for another hour to prove
Pre heat the oven to 180c
Once risen, put the dough in the oven for 25 minutes – you may need to add some foil to stop the top catching half way through

Pumpkin pie
I had never made or tried pumpkin pie until last weekend when I decided to make it!
I adapted two recipes found online to create my own – honestly, it's really simple. If you like egg custards then it is a bit like that texture.
Ingredients
Pack of ready rolled shortcrust pastry
450g pureed pumpkins
3 eggs
340ml evaporated milk
1 tsp pumpkin spice
200g brown sugar
1 tbsp cornflour
Method
Preheat the oven to 180c
Line a loose bottomed fluted tin with the pastry and blind bake with baking beans for 15 minutes
After 15 minutes, take the baking beans out and egg wash the pastry
Bake for another 10 minutes
Mix all the filling ingredients together
Pour mixture into cooled tart base
Bake for 25 minutes
Leave to cool, serve with a dusting of icing sugar and squirty cream on the side 😉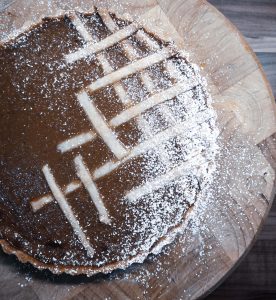 ………………….
I hope you have a go at one of these recipes – they're all delicious if I do say so myself!!
x
If you enjoyed reading this, then why not have a read of my other Autumn baking spotlight post on the gorgeous blackberry!