Is there anything better than receiving baked goods from someone? Even better, a home baked biscuit box???
I baked this biscuit box for some of my nearest and dearest whom I couldn't see over the festive period, however I think that to receive something baked with love is appropriate at any time of year – especially when we are locked down!
You could do a doorstep delivery to your local friends and family whilst you're on your daily walk! Biggest issue will be trying to refrain from cracking into the biscuit box on the walk there!
What's in the biscuit box?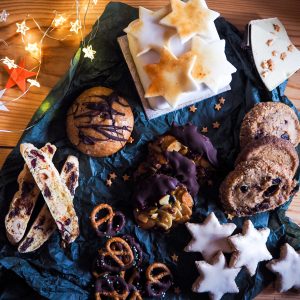 Clockwise from top, we have Christmas cake [you can find the recipe here and some decorating tips here], peppermint bark, slice and bake cookies, zimsterne, chocolate covered pretzels, biscotti, lebkuchen and florentines in the middle. 
Biscuit box recipes
Zimtsterne
Say whatttt??? You'll find these sweet, nutty, chewy biscuits at German Christmas markets. They're naturally gluten free because they're basically made from nuts!
Ingredients
100g blanched hazelnuts
2 egg whites
200g icing sugar
150g ground almonds
2 tsp mixed spice
1 tsp ground ginger
Zest of 1 orange
Method
Pre heat the oven to 120c – yes, you read correctly, it needs a very low oven!
Whizz the hazelnuts until finely ground
Beat egg whites until they form soft peaks and then add the icing sugar. Beat until incorporated [do not expect a meringue type mixture – think PVA glue and you've got it right] Set aside 50g of the mixture to use as a glaze later on
Mix in the ground nuts, spices and orange zest to form a sticky dough
Dust the work surface with icing sugar and roll out to 5mm thickness
Use a star cutter and stamp out shapes – you should get around 40 out of this mixture, however this does depend on the size of your cutter!
Before they are due to be baked, paint the reserved glaze on top of each star
Bake for 15 mins in the low oven – take out and cool on the tray for 10 minutes before transferring to a wire rack 
Biscotti
I love a biscotti – I'm not a dunker, however I will stretch to dunking one of these in a luxurious hot chocolate. Just be careful of your teeth!!!
Ingredients
225g plain flour
1 tsp baking powder
175g caster sugar
2 eggs
75g pistachios
75g dried cranberries
75g chopped dark chocolate
Method
Preheat oven to 180c and line a baking tray with greaseproof paper
Mix flour, baking powder and sugar together
Add eggs and mix to form a dough
Add the remaining ingredients and ensure that they are evenly distributed
Divide the dough in half and form each half into a sausage shape [about 30cm in length]
Place on the tray and bake in the oven for 20 minutes
Cool for ten minutes and turn down oven to 150c
Use a serrated bread knife to cut the dough diagonally into 1cm thick slices
Lay these slices flat on the baking tray and bake for 20 minutes until dry
Cool on wire rack – they will harden and then store in an airtight container
Florentines
I am not joking when I say that these were quite hard to get right – I also made them gluten free so this might have had an influence on the baking difficulty! I tried to make these three times – last time was perfect!
Ingredients
50g butter
50g light brown sugar
50g golden syrup
50g gluten free plain flour
50g dried cranberries
75g flaked almonds
50g chopped pistachios
Zest of 2 oranges
200g dark chocolate
Method
Preheat oven to 180c
Melt butter, sugar and golden syrup together in a pan
Remove from heat and whisk in the flour
Add the cranberries, flaked almonds, pistachios and zest
Place tablespoons of the mixture onto a lined baking tray – space them apart!!!
Bake for 10 minutes in the oven 
Cool until form enough to be lifted onto a wire cooling rack
Melt chocolate in the microwave and then dunk each florentine in halfway. Leave to set on greaseproof paper
Lebkuchen
One of my favourite festive biscuits – if you like a mildly spiced, soft cookie type biscuit then this is the one for you!
Ingredients
200g honey
85g butter
200g plain flour
100g ground almonds
1 tsp each cinnamon, ground ginger and mixed spice
1/2 tsp nutmeg
1/4 tsp bicarbonate of soda
1/2 orange juice and zest
Method
Melt butter and honey together in a small saucepan
Refrigerate for 10 minutes
Add dry ingredients plus orange juice and zest
Mix until a wet dough is formed
Leave to cool for about an hour
Pre heat the oven to 180c
Roll out wet dough onto a floured surface
Cut into shapes and bake on greaseproof paper for 15 mins
When cooled, you can add the sugar glaze to them
To make the icing glaze, mix 100g icing sugar with 2 tbsp boiling water and dip the cookies into it
If you want to watch how I made them, then check out this Instagram reel that I created. 
Slice and Bake Cookies
I have adapted a recipe from The Butternut Bakery blog and you have to try these! If there is one recipe that I have been baking since making these biscuit boxes, it is this one!
Ingredients
220g salted butter
75g light brown sugar
95g caster sugar
2tsp vanilla extract
280g plain flour
Method
Cream butter and sugars together until light and fluffy 
Add vanilla extract
Add in flour and mix until just incorporated
Divide the dough in half – one half become a chai spiced vanilla cookie [add 1/2 tsp ground ginger, 1/4 tsp ground cardamom and 1/2 tsp mixed spice into the dough] and to the other half was added 50g chopped dark chocolate and 50g dried cherries that had been roughly chopped]
Roll each half into a fat sausage shape, wrap cling film tightly round them and refrigerate for at least two hours
When the dough is chilled, it is ready to be rolled
For the cherry/chocolate dough, you will need 3 tbsp demerara sugar and 2 tbsp desiccated coconut mixed together and spread onto a flat surface
For the chai spiced dough, you will need to mix together 2 tbsp caster sugar, 2 tbsp demerara sugar and 1 tsp mixed spice
Roll the dough into the coatings until nicely coated and slice with a sharp knife into rounds – they should be about half a centimeter thick
Bake in a pre heated oven at 160C on parchment paper for 12-15 minutes
Quick extras…

Chocolate covered pretzels
The most moreish sweet and salty treats EVER! These are so easy to make too – just buy a bag of salted pretzels, melt some dark chocolate and dip half of the pretzel into the chocolate. Once dipped, leave to dry on greaseproof paper but before fully dry, sprinkle with sugar strands or desiccated coconut or chopped nuts. The possibilities are endless! 
Peppermint bark
If you want an authentic peppermint bark recipe then you need to check out my friend's blog post here. I didn't have all the ingredients for peppermint bark [could not find candy canes ANYWHERE!] so I improvised. I melted 200g mint dark chocolate with 200g dark chocolate and left it to set in a flexible cake tin [I put it in the fridge to quicken the setting time]. I then melted 300g white chocolate and poured it over the set dark chocolate. That was then left to set – however, before it set fully, I added some festive sugar stars to the top. Voila!
That's it! Lots of recipes for you to try here – you don't need to go to town like I did, some of the recipes are lovely to be baked and gifted on their own. Let me know if you do try any of the recipes!
x
If you enjoyed reading this post, then check out some other baking posts – the choux pastry one is a goodie – make it less festive by just making a profiterole stack!