Disclaimer…there may be some penis pictures in this blog post. Proceed with caution. 
What a hen weekend!
My lovely friend is getting married this year and whilst her hubby-to-be is going abroad for his stag, she wanted to do something a little different in this country and not too far from home in case she needed to rush back for the kids.
Dates were put in diaries. The place was booked. Money paid. Food and drink bought. Spray tan done. Willy costume purchased. No, really.
We rocked up to The Grange on the Friday afternoon.
The site was in rural Staffordshire…I'll admit, my geography skills are shit. All I do know is that it should have taken just over an hour to get there, instead it took three because THE M6 IS A SHITTER OF A MOTORWAY (along with the M62 FYI).
The place was really cute!
We were introduced to Mick – the host – who showed us to our tents and gave us a tour of the glamping site.
There were three bell tents situated in a little clearing which each had five camp beds set up in them. It was so cute! They had provided little juice boxes and biscuits (presumably to help with the hangovers the next morning) along with torches and mosquito repellent…joy.
Away from the camp was the mess area – an area which housed a toilet, shower room and eating area with large table/sink/plugs so that we could charge our phones!
Getting back to nature…
Not far from the tents was the eco toilet. I was of the opinion that I would only use it if I was very, no, extremely desperate and would rather walk up the mess area to use the proper toilet. In the end I did use it – but only in the daytime where I could see if there were any creepy-crawlies trying to crawl their way onto my head or into my lady garden. Eek!
We were shown the wood fired hot tub and the covered den area that we nicknamed the 'Shangrila' – this area was used on the Friday night when we had rain. We squeezed into it with our bottles of booze and the music and sang and danced the night away.
The site had a fire pit too with wooden seating all around it. We used this area lots as a communal gathering area…where we drank, carried out the lip sync battle (haha) and held our art class where we had to draw pictures of…I'll leave that to your imagination.
Ah, what the hell…I'll show you my masterpiece!
Drunken activities…
The company offers activities to hen groups where suppliers come out to the glamping site, however due to costs it was decided that they would be organised ourselves.
The bridesmaids came up with a variety of different activities – all very hen do relatable. We had the usual Mr&Mrs quiz, cocktail making, consequences with shots, life drawing, drunk rounders, afternoon tea, etc. There was even a special guest appearance from an appendage…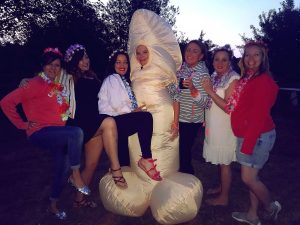 It was also so hot that weekend so when we were not doing any activities, we sunbathed or fell asleep on the grass in the shade. I have to say though, it was really weird not doing anything and actually RELAXING!!! At night the fire pit was lit and we toasted marshmallows which was soooo nice…albeit a bit sticky!
The Aftermath
I'll be honest…I don't much like camping (despite us going for a couple of days in August) but sleeping in a bell tent on a proper camp bed with a proper duvet was quite nice. There was no weird camping/sweaty nylon tent smell and no condensation on the inside when we woke in the morning. There were two times that I proper hated it – the first night where it was so bloody cold at night I could not sleep…plus I was freaking out that spiders and earwigs would be crawling all over me AND the last night when there were only five of us left in the whole camp. That freaked me out because I kept thinking about intruders. Ee I tell you, I have a very vivid/overactive imagination. I totally blame the alcohol!
I have to admit it took a good few days to recover from the alcohol consumption. I'm totally not used to drinking a lot (two drinks and that's me usually) but I powered through and ended up drinking four days straight. Urgh.
We definitely saw the bride off in camping style…albeit her wedding isn't until December but that just means more time to fit in another hen do!!!
x