Disclaimer…you're going to see a few pictures of my boobs doing what they do best – feeding a baby.
It's the penultimate day of this year's World Breastfeeding Week (1st-7th August) where we celebrate the ol' mammory glands and each year there is a different focus. This year the focus being on to raise awareness of the links between good nutrition, food security, poverty reduction and breastfeeding and galvanise action to increase breastfeeding rates worldwide. Sounds simple.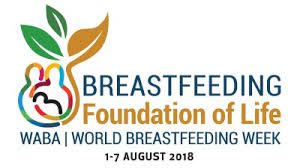 This year's slogan is Breastfeeding: Foundation of Life and the World Alliance for Breastfeeding Action's logo is one of two adults and an infant, which is reinforcing the importance of working together to protect, promote and support breastfeeding. They go on to explain that the leaves are links between breastfeeding and nutrition, food security and poverty reduction.
I'm always a bit nervous to talk about breastfeeding and tend to play down my breastfeeding journey. I would be mortified if anything I said/wrote got taken the wrong way and made someone feel insignificant or thought I was being preachy because I'm not.
I breastfed both my children. My instagram name and subsequently this blog was borne out of the fact that I always had a tit out and yet there were other non mammory shaped sides to me that I felt people [and me!] were forgetting about!
My breastfeeding experience
I'll be honest, I never much thought about how I was going to feed my baby – I just assumed that I would breastfeed because it was natural and of course I would be able to do it! How wrong I was.
I had quite a traumatic birth with Cecily [which I do believe contributed to my subsequent difficulties in breastfeeding]. Our breastfeeding start was hard. Nobody had told me about the latch, how your nipples have to adjust to something sucking the life out of them, that your milk actually does not come in straight away, or that they want to feed constantly for more than just food. I was a complete novice.
I had attended a breastfeeding class run by the hospital a few weeks prior to giving birth but they had refused Kristian attending. This angered me at the time because he was the person who would be there to help me, to ensure that I was holding the baby correctly, to double check whether the latch was correct. But no. I was told that surely I should understand that some women would not want a man present when we are discussing breasts. Jesus. Of course. How silly of me! Because of course Kristian [and I assume any other man with a heavily pregnant partner] would be attending this class to get off on the image of a breastfeeding mother or when a knitted boob was handed around the class. I mean COME ON! And they wonder why we have shite breastfeeding rates…
…I think I might still have some hidden anger issues there!
Midwives on the ward were not much help – of course, they had to deliver other babies. I was left with a heavy handed health assistant trying to hand express colostrum from my boob on day three. This was one of the worst experiences. I cried. It hurt so much. I wanted them to top my baby up with formula but this was refused which only added to my stress and my milk supply problem. I could have given up then but I was determined to feed her my way. I think given the way she came into the world, I already felt guilty and a bit of a failure so I wanted to do right by her this way.
Things got easier
Once we were allowed home [after seven days] my milk came in and we got on with feeding. Cecily was combi-fed and we managed to feed her formula once a day – specifically the last feed before she went to sleep. And no, it did not make her sleep through the night. She still woke up to three times per night for a feed.
It is a complete myth that formula makes them sleep through – although sleep deprived parents will do anything to believe that they will get a few more precious hours of sleep!!! I would have sold my left kidney for a full night's sleep!
Breastfeeding Cecily still had its difficulties – I had mastitis once (which was goddamn awful) but we persevered and fed until her first birthday when I then had to return to work.
Tongue tie
Breastfeeding for the second time was a different ball game. I was experienced now so knew the way to hold the baby to ensure the correct latch.
Unfortunately Rufus had tongue tie which meant that his latch was not always fantastic. This meant blisters on my nipple, bleeding spots and feeling like he had a mouth of glass every time he tried to feed on me. For six weeks I had to endure this until he had his tongue tie snipped. Once that was sorted, breastfeeding him was honestly a breeze and because of that fact he was exclusively breastfed which is something I am very proud of.
You may wonder why I didn't just turn to formula given that I used to recoil in pain every time he fed. Fact is I'm lazy. I knew that once his tongue was snipped things would get easier. Feeding formula to a baby is an arse in my opinion. We did it with Cecily and everything that goes with it is just EFFORT. The bottles you have to sterilise, the different teats, having to think about feeding times, measuring the formula out, etc, etc. I had two kids. I'd lost my brain at seven months pregnant so it was just easier for me to choose a route where I didn't have to think really and just wap the boob out!
My advice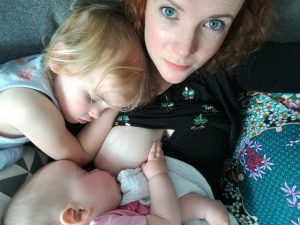 It's bloody hard. Do not expect breastfeeding to be easy. If it is easy for you then you are one of the lucky ones.
Embrace leaky boobs, saturated breastpads, lansinoh, ugly feeding bras, lactation treats, bruised boobs, relaxation time whilst feeding and learn to hydrate yourself more than you ever have done before. Oh and also breastfeeding sweats and the smell are delightful!
There are times that you will want to give up. You will question whether you are feeding them enough. People will comment on how many times your baby is feeding and suggest you might want to give them a bottle. You will begin to doubt yourself after hourly feeds. You will cry from exhaustion because you are having to get up and do the night feeds because nobody else can. You will feel like a prisoner at times. But you can do it and all those doubts will fade away when you are feeding your baby and cradling them to sleep. For me, it is one of the hardest but most rewarding things I have ever done.
More support for mothers is needed
We are so lucky to live in a country where we are afforded the choice, however it is concerning that the UK has one of the worst breastfeeding rates in the world. At the end of the day, you cannot argue that breast is not best because it is tailored specifically to the infant and whilst formula has come such a long way since I was a baby, it still does not provide the all important antibodies.
However, if there is a reason you are unable to feed your baby via breastmilk you should not be made to feel guilty and do not beat yourself up about it…god knows we have enough on our plates already!
Breastfeeding is such an emotive topic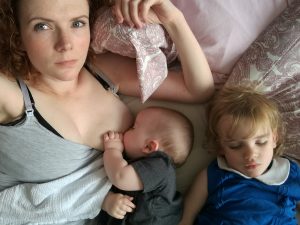 This week can be hard for some who were not able to breastfeed their baby. I think in recent years, mothers who chose not to breastfeed [or could not breastfeed] were vilified and made to feel guilty. Obviously a mother's instinct is to defend herself and her choice hence why there are many heated debates surrounding the subject. Eek! On the other side of the spectrum, breastfeeding mothers are given a hard time for seemingly constantly feeding their babies and being accused of coming across a bit smug. In my opinion you can't win!
What is important is that however a mother feeds her baby, support is needed and the love a mother has for her child is no different.
x